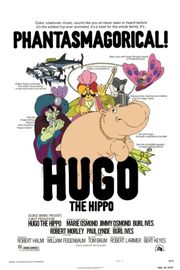 Hugo the Hippo
(
Template:Lang-hu
) is a
1975
animated
film produced by the
Pannónia Filmstúdió
of
Hungary
and co-produced in the
United States
by
Brut Productions
, a division of French perfume company
Faberge
.
[1]
It was released in Hungary in 1975 and in the United States in 1976 by
20th Century Fox
.
The Sultan of Zanzibar has a harbor infested with sharks, which makes it impossible for ships to trade with him. In an attempt to fix the problem, he brings twelve hippos into the harbor to keep the sharks away. His idea works well enough, but once the hippos are no longer a novelty and the people no longer feed them, they begin to starve. After the hungry hippos rampage through the city looking for food, Aban-Khan, the king's adviser, slaughters all the hippos except one, a little hippo named Hugo. Hugo escapes across the sea to the city of Dar es Salaam, on the African mainland.

A group of children find Hugo and attempt to hide him as best they can, building a garden to feed and take care of him.  However, Hugo is discovered and the garden is burned to prevent the children wasting their time with him and neglecting their schoolwork.  Hugo is forced to scavenge from the local farms for food, and is put on trial for the damage his nighttime raids caused.

Fortunately, the children manage to contact the Sultan who agrees to appear in court to speak for Hugo.  The ruler makes a powerfully impassioned speech about how the hippos were mistreated both by their neglect and their uncalled for culling, which removes all doubt that Hugo is the true injured party in this affair.  As a result, the hippo is released and the children agree to care for the hippo for the rest of his days.
Soundtrack
Edit
Music and texts by Robert Larimer, directed by Bert Keyes, sing
Marie Osmond, Jimmy Osmond, Burl Ives, Ken Williams Quartet, White Water.  The soundtrack was released on United Artists Records in 1976.[2]
"It's Really True" (Marie Osmond)
"Sing Song, Pass it Along" (Ken Williams Quartet)
"Zing Zong" (White Water)
"H-I-P-P-O-P-O-T-A-M-U-S" (Jimmy Osmond)
"You Said a Mouthful" (Burl Ives)
"This Friendship is Really True" (Marie Osmond)
"Mister M' Bow Wow" (Jimmy Osmond)
"The Best Day Ever Made" (Burl Ives)
"I Always Wanted to Have a Garden" (Marie Osmond)
"Somewhere You Call Home" (Marie Osmond)
"Wherever You Go, Hugo" (Jimmy Osmond)
Cast and crew
Edit
Hungarian-language cast
Edit
English-language cast
Edit
Italian-language cast
Edit
Czechoslovakian-language cast
Edit
Production
Edit
Hugo the Hippo was the first international release of a PannoniaFilm production;[1] prior to this, they had also made Hungary's first animated feature, János Vitéz, in 1973. The film, produced over a two-year period, received funding from the Faberge company via its Brut productions label.[1] Its U.S. distributor, 20th Century Fox, acquired Hugo along with two other Brut films starring Elliott Gould, Whiffs and I Will, I Will... for Now.[1]
Home video/DVD releases
Edit
After an unsuccessful box-office run,[1] Hugo was briefly released to the American home video market in the early 1980s.  It was released on DVD only in Hungary and Italy.  Reviewer Phil Hall suggests that Hugo the Hippo may never get a DVD release due to its psychedelic, weird, politically incorrect and violent content.[3]
Cite error: <ref> tags exist, but no <references/> tag was found